Is Hypnosis Helpful?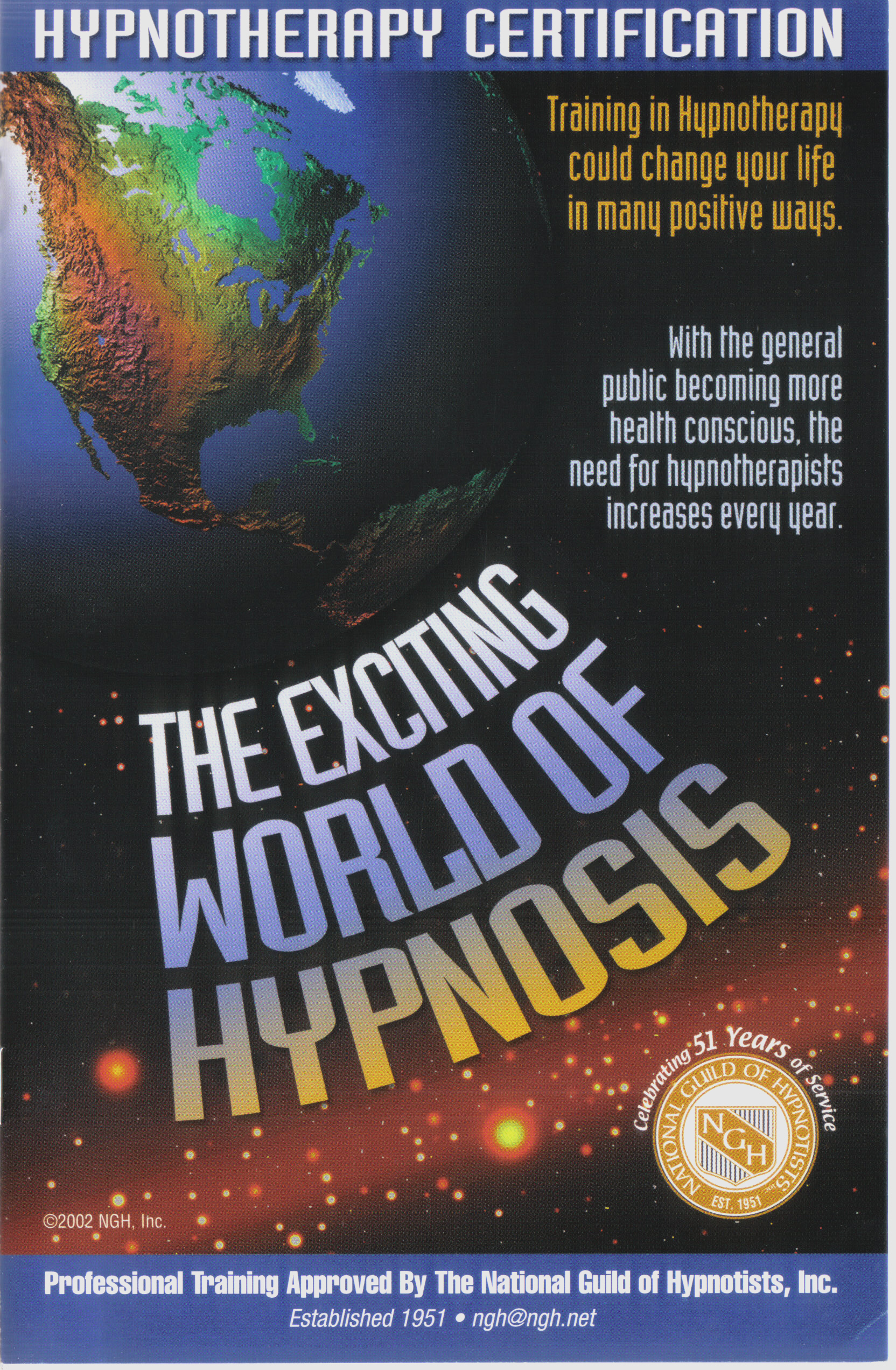 BreakThrough Institute & The National Guild of Hypnotists
Introducing an all new
Hypnotherapy Certification Course
In this, one hundred hours of hands-on, fun workshop, you will learn:

> The fundamentals of Hypnosis
> Myths & misconceptions about Hypnosis
> Conducting suggestibility tests
> Basic and advanced hypnotic inductions
> Conducting depth of hypnosis tests
> Step by step how to conduct a hypnotherapy
session with a client
> How to construct suggestions
> Post hypnotic suggestions
> Laws of the mind
> Self hypnosis

· Secret methods of inducing hypnosis indirectly
· How to hypnotize anyone instantly using the latest
"rapid induction" methods
· Advanced NLP patterns
· Why what you say before hypnotizing a client is just
as important as what you say during hypnosis
· How to explain hypnosis in a way that puts clients at
ease and makes them more receptive to your
suggestions
· Little-known techniques for dramatically increasing the
effectiveness of any hypnosis session
· Advanced methods to accelerate change, and help
clients achieve their goals faster
· Ericksonian-style hypnosis explained clearly, with
easy-to-use step-
by-step instruction
· How to hypnotize others using the most advanced
electronic methods

More specifically:
Preliminary Suggestibility Tests: Chevreul's Pendulum, Arms Rising and Falling, Hands Clasp Test and Postural Sway. Recognition and Classification of Subjects. Favorable and Unfavorable Influences and Dangers of Hypnosis. How to Hypnotize: Progressive Relaxation, Dr. Flowers Technique. Trance Depth. The Arons Scale: Eye Catalepsy, Arm Catalepsy, Number Block, Glove Analgesia, Positive Hallucination and Negative Hallucination. Suggestion Management. Rules for writing suggestions and affirmations. Self Hypnosis in 3 steps. Mechanical Aids. Post-Hypnotic Re-induction. Confussional Techniques. Hypermnesia. Instant induction. Blackboard Induction. Waking Hypnosis. Introducing hypnosis to a client. Deepening Techniques. Pyramiding Suggestions. Brief history of hypnosis and hypnosis miscellany. Anesthesia Management. Applications of Hypnosis in Smoking Cessation, Weight Control and Stress Management. The Basic Behavioral Assessment and Goal Setting model. The Business of Hypnosis. Ethical and Legal Issues. Code of Ethics. Addendums: Understanding Psychology. Exploring the myths about hypnosis. The Mind-Body connection. Principles of Hypnotherapy. Glossary. Bibliography. History. What is Hypnosis. The first session with a client. Behavioral Assessment (B.A.S.I.C. Assessment Technique). Image Psychology and Hypnosis. Systematic Desensitization & Hypnosis (For Fears & Phobias). Hyperempiria Induction. Dr. Barber's Mystical Induction Method. Ego Strengthening Suggestions. Sessions with a client (Outline). Self Hypnosis Course. Successful Practice. Age Regression. The Affect Bridge.
Addendum: Transpersonal Psychology. Counseling Hypnotherapy. References.

Our comprehensive course materials include:
Text book "Hypnotize This" by Zali Segal, two manuals, three videotapes, a cassette tape and pendulum. You will also receive TWO official training certificates
1) From the National Guild of Hypnotists (NGH), the world's largest professional organization for hypnotists.
2) Certification from the BreakThrough Institute. Optional available a certification as Hypnotherapist from the American Board of Hypnotists.
Also included are: One-year membership in the NGH, free subscription to the quarterly magazine The Journal of Hypnotism and the newsletter Hypno-Gram. You also gain access to a vast library of video and audio tapes on every subject related to Hypnosis. FREE repeat course.